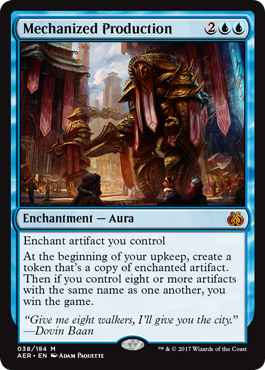 Alright, so I know the casting cost is wonky for a shops deck. UU2 is not easy to achieve with 9 spheres, but this can be built around with a little but of ingenuity and a mox opal or three.
You also have to have an upkeep for this to do anything, but in shops decks upkeeps are generally easy to achieve if your deck does what it's supposed to do.
What I find exciting here is that this is a "free" Sphere of Resistance a turn after the investment. It could be a Tangle Wire, a Thorn of Amethyst, if you're lucky, maybe a Lodestone Golem.
It's a built in win condition. Can you shops kids imagine slapping this on a Sphere when you have control of the game? Nobody gets out until you win the game.
It could also help one come from behind if they are only able to stick a single relevant Arti-threat.
Of course, this is all presumable spitballing, but I'd love to at least attempt to start a discussion.
Happy First Tuesday
last edited by