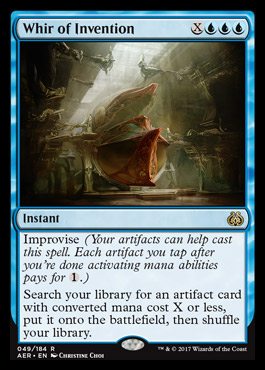 Whir of Invention
XUUU
Instant
Improvise (Your artifacts can help cast this spell. Each artifact you tap after you're done activating mana abilities pays for 1.)
Search your library for an artifact card with converted mana cost X or less, put it onto the battlefield, then shuffle your library.
Well, this effect is always nice, although Transmute Artifact doesn't see much play these days.
This only caught my attention because it's an instant way to fetch Black Lotus, and you don't even need a Mox to sacrifice. Maybe it can be really good in Salvagers combo, while also being able to get Vault or Key even with "mana" generated from stuff like Graf Cage or Sensei Top.
last edited by