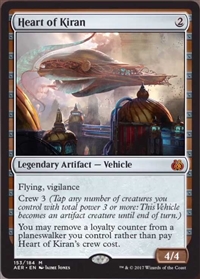 Heart of Kiran
2
Legendary Artifact - Vehicle
Flying, Vigilance
Crew 3 (Tap any number of creatures you control with total power 3 or more: This Vehicle becomes an artifact creature until end of turn.)
You may remove a loyalty counter from a planeswalker you control rather than pay Heart of Kiran's crew cost.
4/4
Interesting with fayden or baby jace. Really cheap and quite aggresive, and providing you can remove loyalty counters in your own turn, it's a fantastic defender.
I'm not saying this is going to see play for sure, but seems REALLY interesting, and I think it will actually see play, specially in decks with pws.
last edited by