I' not trying to discuss if the card is good or not, so this isn't a spoiler discussion. Recently I got in an argument with a friend about Sin Prodder's ability and the difficulty to grasp the concept of it as a card manipulation tool (for your opponent).
He likes the card because for him it generates advantage either way. Either you get an extra card, or extra damage (unless it's cc=0). For him, if you lose the card, you're losing a random anyway, much like if it was milled from the top. It shouldn't get in the equation if the card is good or not - much like mill.
For me, the problem is that I think of it more like a draw manipulation tool like Jace's fateseal. It' not mill anymore if you get to look at the card. You're actually taking a good card out of your opponents hand.
Of course, if you take Prodder's card out, it doesn't mean he won't draw anything good on his own draw step. But for me giving this power to the opponent is ehat makes the card bad.
How do yous guys evaluate this kind of ability? I mean, you could see it as a form of card advantage for Prodder's owner, but also as giving the opponent more control over what you draw.
Here's the card for those who don't know ehat it is: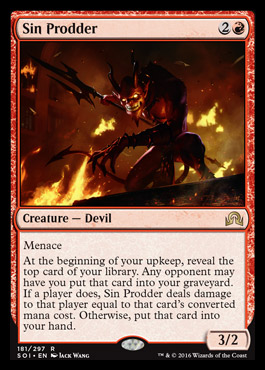 last edited by Brass Man