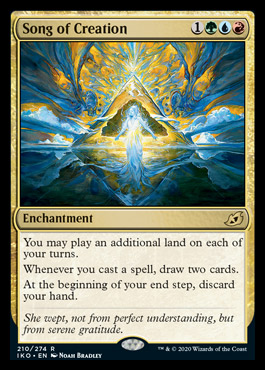 Song of Creation 1GUR
Enchantment
You may play an additional land on each of your turns.
Whenever you cast a spell, draw two cards.
At the beginning of your end step, discard your hand.
---
OK. This feels very, very good. Draw 2 cards per spell? WHAT?
Actually, you´ll probably need to watch your library carefully that you don't just lose to yourself...
EDIT: also, finally a great Flash-Rector target that is also castable.
last edited by fsecco