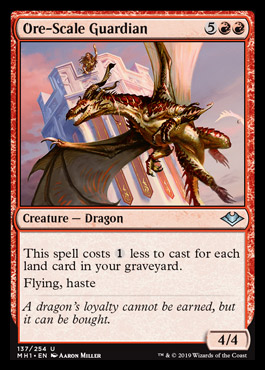 5RR
Creature - Dragon
This spell costs 1 less to cast for each land card in your graveyard.
Flying, haste
4/4
Is this the kind of answer to PWs we can play? I don't know if a hasty creature is better than, say, The Elderspell or whatever. RR seems easier to pay than BB though. Another problem is that this doesn't kill Karn if the +1 first (but makes them lose it if the -2 the next turn). It's also highly improbable you'd play this turn 2 (you'd need fetch + Dack turn 1 to do this I guess), but it's an easy turn 3/4 play, right?
Also seems easy enough to play against Shops or Eldrazi too and is an able body to block or be on the offense.
last edited by