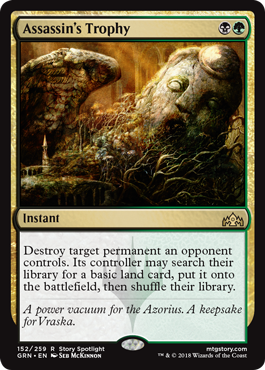 Assassin's Trophy BG
Instant
Destroy target permanent an opponent controls. Its controller may search their library for a basic land card, put it onto the battlefield, then shuffle their library.
Abrupt Decay has been on a bit of a downswing lately, but this seems to have potential in that same slot of flexible removal for BUG and/or Oath decks. Losing uncounterable hurts, but the additional ability to hit any permanent might make up for that.
last edited by revengeanceful