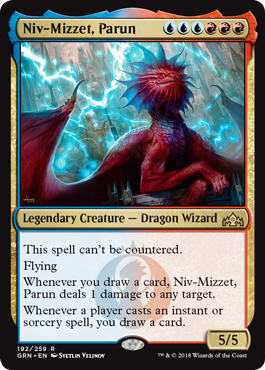 Niv-Mizzet, Parun UUURRR
Legendary Creature -- Dragon Wizard
5/5
This spell can't be countered.
Flying
Whenever you draw a card, Niv-Mizzet, Parun deals 1 damage to any target.
Whenever a player casts an instant or sorcery spell, you draw a card.
---
So obviously UUURRR is not the easiest mana cost in Vintage, but holy moly, the abilities here are so over-the-top the card demands some consideration. It's hard to imagine losing the game if given even the smallest of windows to start chaining cantrips and rituals. The opponent can try to counter your rituals, but even in the best-case scenario they are giving you two cards for every spell countered.
Niv being uncounterable and doubling as both engine and win condition are icing on the cake.
last edited by