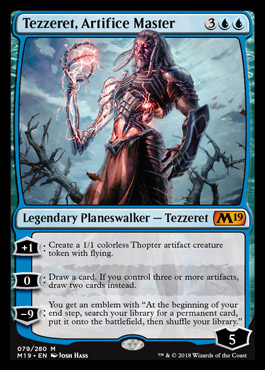 Tezzeret, Artifice Master
3UU
Legendary Planeswalker - Tezzeret
[+1]: Create a 1/1 colorless Thopter artifact creature token with flying.
[0]: Draw a card. If you control three or more artifacts, draw two cards instead.
[-9]: You get an emblem with "At the beginning of your end step, search your library for a permanent card, put it onto the battlefield, then shuffle your library."
Loyalty [5]
Well, well, well. A PW that draws 2 (two) cards per turn, protects itself and has a game-ending ultimate. This seems great. Doesn't have the -3 Teferi does, but man drawing 2 cards per turn seems absurd.
last edited by fsecco