Looks like we're going to get another Staff of Nin-like card, via Reddit noticing the Brazilian MTG Twitter account accidentally tweeting out a preview card early:
Immortal Sun - 6
Legendary Artifact - M
Players can't activate Loyalty abilities of Planeswalkers.
At the beginning of your draw step, draw an additional card.
Spells you cast cost 1 less to cast.
Creatures you control get +1/+1.
EDIT: card image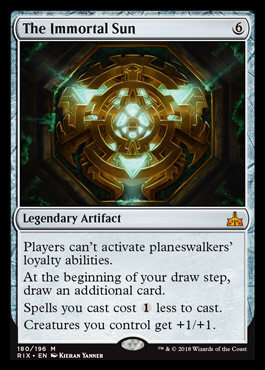 last edited by kenan