So I've seen some posts about this in the "Hatebears with Mayor of Avabruck" thread and I thought I'd make a prettier thread solely devoted to discussing a new 5-Color Aggro Hatebear Monstrosity that I am dubbing "Human Stompy." This deck operates on a totally different axis than previous hatebear decks. It still sports some familiar faces in Thalia, Guardian of Thraben (she's just way too powerful to NOT run in a Cavern of Souls based human deck. I kind of look at here as the Lodestone Golem of the deck. She, like Golem, is a turn 1 play off a land and a mox that taxes opponents without really taxing you in almost any way), Dark Confidant, Mayor of Avabruck, and Noble Hierarch. However, instead of running a prison approach that seeks to stop broken decks from their broken lines of play (I'm thinking of cards like Leonin Arbiter, Gaddock Teeg, Aven Mindcensor and friends), it attempts to bash face and put as much tempo/damage on the board as quickly as possible. This is possible due to three key 3-drops that have seen relatively recent print.
First, I'd like to talk about the card that has wowed me to no end that is currently being run as a 4-of and who's effect is so utterly hateful and aggressive at the same time that I'm stunned I didn't think of him sooner. Props to wappla for point him out to me as much better alternative to Eidolon of Rhetoric for stopping spell chaining from broken decks. I am referring to a little known card called Scab-Clan Berserker. You are probably raising an eyebrow or four right now. Let me enlighten you: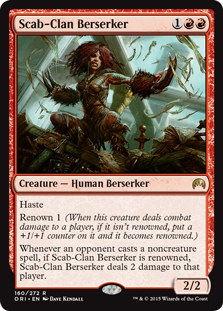 So let's unpack this guy for a sec. He's a 1-sided Eidolon of the Great Revel or Pyrostatic Pillar that still deals damage on non-creature spells outside of 3 cmc. That means cards like Jace, Force of Will, Dark Petition, Gush, Delve Spells, Gifts, Fact, and more are all dealing your opponent 2 damage to cast as well as the usual suspects of preordain, git probe, and any cheap removal. Now will this guy eat removal right away? You can bet your sweet patoot that he's eating removal right away. That is, if your opponent has it handy. Otherwise they are taking between 4 and 10 damage just to FIND it and that doesn't include the 3-5 damage he is likely dealing to the dome from cracking in. Did I mention he has haste so he's one of the best tools for a well-timed sneak attack. Speaking of haste, another card that has proven its stripes over and over again and is now a 4-of for that reason is Mantis Rider. Again, eyebrows raised? Don't think too hard. . .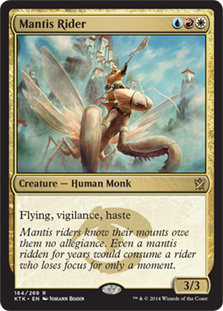 So Mantis Rider is pretty straightforward. His aggro potential is clear. Slap down a noble or two or a noble and a mayor and you have a 5 damage-a-turn evasive hastey beatstick that can also block while attacking. This guy is also my go-to solution to the annoying planeswalkers that exist in the format cough cough Jace, TMS, Jace, VPN, Dack cough cough. I really find it excruciating to lose to a turn 1 or 2 jace, and this guy gives you a chance to burn that Jace to the ground in a hastey and rude fashion. Well, you know what? I find it rude that you Jaced on turn 1 or 2 so deal with it blue mage! Speaking of mages that I like, get a load of Reflector Mage: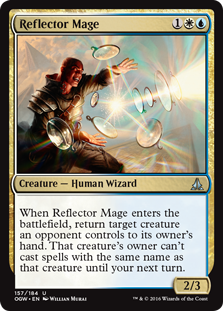 Now I only run 3 of this little number because I can't afford the slot for Mage #4 but I have definitely gone back and forth on this. 12 3-drops also seems like one too many, but my main reason for only running 3 mages is that getting "mage flooded" is much more of a problem than getting "berserker flooded" or "mantis flooded." The reason being that the latter two both do amazing things in multiples while Reflector is better to see about once a game (sometimes twice). Let's unpack the insane things Reflector provides the deck.
An out to Tinker-Bot. This is key. Any fair creature deck needs an out to Tinker-Bot. Build responsibly my friends!

It is a surprising insidious answer to Monastery Mentor. The fact that you can bounce a Mentor and then keep them off a recast of ANY Mentors in their hand for a turn is a huge positive tempo swing and can/has lead to blowouts on numerous occasions.

The body is respectable. The 2/3 body on this guys makes him a way more potent option than previously used cards like Fiend Hunter.

He is very good at bouncing cards like Wurmcoil Engine or Lodestone Golem in the Mid-Late game.
So I will talk more about the Synergies of the deck and sb in a future edit to this initial post, but for now I really wanted to just get this down in a forum so that I could get feedback and suggestions on my most updated list. Thanks for reading and here is the list:
Human Stompy
Land (18):
4 Cavern of Souls
4 Mana Confluence
4 City of Brass
4 Gemstone Mine
1 Wasteland
1 Strip Mine
Artifact Mana (6):
1 Black Lotus
1 Mox Emerald
1 Mox Jet
1 Mox Pearl
1 Mox Ruby
1 Mox Sapphire
Creatures (29):
4 Noble Hierarch
4 Thalia, Guardian of Thraben
3 Dark Confidant
3 Mayor of Avabruck
3 Containment Priest
2 Grand Abolisher
3 Qasali Pride-Mage
4 Scab-Clan Berserker
2 Reflector Mage
3 Mantis Rider
Instants (4):
1 Ancestral Recall
3 Abrupt Decay
Sorceries (1):
1 Time Walk
Sideboard
3 Stony Silence
3 Izzet Staticaster
3 Surgical Extraction
1 Grand Abolisher
1 Containment Priest
1 Abrupt Decay
1 Reflector Mage
2 Wasteland
last edited by Brass Man